Update on Cinema HD – Installation Guide and Latest Features (V2.5.2)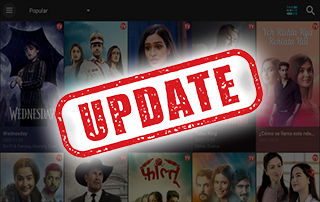 This guide covers the most recent Cinema HD Update and how to install it on any Firestick or Fire TV device.
Cinema HD has officially updated to V2.5.2 which includes bug fixes and reduced ads on Amazon devices.
The official Change Log for version 2.5.2 can be found after updating the application, which we show how to do below.
Cinema is one of the most popular streaming apps among those using the Amazon Firestick, Fire TV, and Android devices.
Since this app is not available within the Google Play Store or Amazon App Store, users must side-load this app by jailbreaking a Firestick.
Cinema HD APK provides thousands of movies, TV shows, documentaries, and more. This app can be found in our list of the Best APKs.
Cinema HD V2.5.2 Update
After first testing Cinema HD V2.5.2, we noticed that it doesn't provide many working free links like most streaming applications.
However, when we integrated Real-Debrid we found these links to be working very well.
Anytime an unverified application updates, one of the first things to check before installing is any viruses/malware.
This can be done by scanning the Cinema HD 2.5.2 APK file through VirusTotal.
LEGAL DISCLAIMER: IPTV WIRE does not own or operate any IPTV service or streaming application. We do not host or distribute any applications. We do not verify whether IPTV services or app developers carry the proper licensing. The end-user shall be solely responsible for media accessed through any device, app, addon, or service mentioned on our Website.
For 100% legal IPTV service, IPTV WIRE recommends Vidgo.
As you will see in the image above, no viruses/malware was flagged in this APK file.
However, this does not mean that we shouldn't still protect ourselves while using this unverified streaming application.
We strongly recommend using a VPN with these unverified streaming apps. See the guide below for more information.
Best VPN for Streaming
How to Update Cinema HD
Below you will find steps for updating Cinema HD on any Amazon Firestick or Fire TV device.
Install the Downloader app from your App Store (Amazon or Google Play) and turn on Apps from Unknown Sources in the settings of your device.

If you haven't done this yet please refer to the tutorial below that walks through this simple process.

Launch Downloader.

Click the URL box and enter the following URL and click Go – https://cinemahdapkapp.com/download

This is pointing from the official source of Cinema HD APK

Click the most updated version of Cinema HD.

Wait for the app to download.

Click Install.

Click Open once the app has been installed.

Click Allow.

Click Accept.

The Change Log

That's it! You have successfully updated Cinema HD to the latest version on your Firestick or Fire TV device.
Note: If you were previously signed into premium services within Cinema HD such as Real Debrid or Trakt, you will have to log back in after updating.
Previous Updates
Below you will find some of the previous Cinema HD APK updates. Many of these update logs were found when launching the application and on various forums.
Previous 2.5.1 Update
Fixed issues with several providers and resolvers
Fixed bug: unable to resume playback in MX/VLC player
Fixed bug: The TV Show recommendations tab would not load
Added Backup/Restore and Android 11+. Overriding the update will preserve old data
Previous 2.4.0 Update
Added more categories including Trakt's featured lists
Fixed many providers
Previous 2.3.7.3 Update
Fixed many providers
Added Season pack support for Real-Debrid, AllDebrid, and Premiumize
Previous 2.3.6.1 Update
Load links faster
Fix many bugs
Remove wrong links
Previous 2.3.5 Update
Remove limit request to premium server option
Turn off revolve premium links option as default
Optimize source code
Previous 2.3.4 Update
New: Remake settings screen
Resolve premium links to the corrected file name
Add option to show default opening screen
Make resume popul cancelable
Add back the option to sort favorites by last watched
Fixed bug: app crashed/force when play movie from the series guide
Previous 2.3.1 Update
Remove Novel Ads Banner
Add option to turn off auto-generate background-color
Remove bad links
Fixed bugs: Can't focus torrent item in Torrent Manager on Firestick
Previous 2.3.0 Update
Use Password to restrict categories or deny searching
Add option: Show season specials
Fixed bug: Favorites can't be switched from TV-Movies-All using air mouse
Fixed bug: RD links not getting picked up on first few searches
Add season pack
Add torrent manager
Fixed bug: cannot focus user torrents on android tv
Refer to the video below for more information on Cinema HD and potential future updates.
Frequently Asked Questions
Did Cinema HD Update? Yes, Cinema HD has recently updated to V2.5.2 which includes additional sources (links) for movies along with various bug fixes.
What is the Most Updated Version of Cinema HD? As of this writing, the most updated version of Cinema HD is V2.5.2.
Is Cinema HD Legal? Since Cinema HD is an unverified application, we can't verify if the app is legal to install and use. However, we can be certain that some content provided may be illegal to watch. To ensure you are not illegally streaming, make sure to only watch movies and TV shows in the public domain.
Is Cinema HD Safe? Yes. After scanning the recent update with VirusTotal the software did not find any suspicious files or malware within the APK file.
However, you should always use a VPN to protect yourself from 3rd party app developers, hackers, your ISP, and others.
What Devices can this Streaming App be Installed On? Cinema HD is available for installation on tons of devices including the Amazon Firestick which is the most popular streaming device available. Users can also download on Android and more.
Cinema HD, a popular streaming app for Amazon Firestick, Fire TV, and Android devices, has updated to version 2.5.2, which includes bug fixes and reduced ads on Amazon devices. To download the update, users must side-load the app, as it is not available in Google Play or Amazon App Stores. After downloading, users should scan the app for any viruses/malware and use a VPN to protect themselves while streaming. The update includes additional sources for movies and various bug fixes. Cinema HD is available for installation on Amazon Firestick, Android, and other devices.
#Cinema #Update #Details #Install #V2.5.2