Top Torrent Website RARBG Closes Its Operations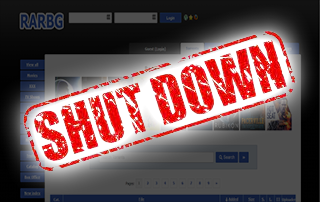 The popular torrent site RARBG is now officially shut down
RARBG, one of the largest torrent websites worldwide, has close down after providing services for 15 years. The site had millions of monthly users worldwide who downloaded various torrents including films, shows, games, and more. The operators have indicated that the closure was due to several reasons, including COVID complications, inflation, war in Europe, and other rising expenses of running a massive website. Fortunately, there are several RARBG alternatives that offer the same content options and downloading capabilities. IPTV WIRE strongly recommends using VPN along with these popular torrent sites because they are open-source.
RARBG alternatives
1. The Pirate Bay
The most reputed torrent site worldwide is The Pirate Bay.
2. 1337X
1337x is an excellent torrent site ideal for all your downloading needs
3. EZTV
EZTV sorts torrents by the most recently added content, and it's an excellent way to get involved with torrenting and learn helpful tips.
4. LimeTorrent
LimeTorrents has been an ideal alternative for many music fans worldwide.
5. Torrentz2
Torrentz2 is a popular torrent search engine that is easy and straightforward to use.
More Options
Besides the alternative options listed above, there are several other alternatives for torrenting as well. Since the official website shutdown, several mirror sites have emerged. One of these includes the Not Quite RARBG or NQ RARBG that looks to take the place of the official website. For more information on this RARBG shutdown, please refer to the video tutorial below.
Legal Disclaimer
IPTV WIRE does not own or operate any IPTV service or streaming application. Also, we do not host or distribute any applications, and we do not verify whether IPTV services or app developers carry the proper licensing. The end-user shall be solely responsible for media accessed through any device, app, addon, or service mentioned on our Website. For 100% legal IPTV service, IPTV WIRE recommends Vidgo.
After 15 years of service, RARBG, a popular torrent site, has shut down due to multiple reasons, including Covid complications and operating expenses. The site had millions of monthly visitors who used it to access various torrents including films, shows, and games. However, there are alternatives such as The Pirate Bay, 1337X, EZTV, LimeTorrents, and Torrentz2. It is recommended to use a VPN in conjunction with these sites for encrypted connections. Since the shutdown, mirror sites such as rarbggo.to and rarbgmirror.org have emerged, and NQ RARBG also looks to replace the official website.
#Popular #Torrent #Site #RARBG #Shuts