Top 5 Live TV Alternatives to SuperBox IPTV Scam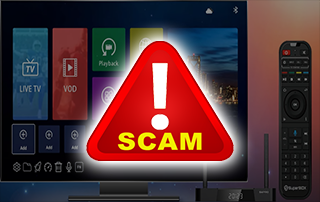 The SuperBox IPTV Scam and the Best Alternatives
If you're considering purchasing a SuperBox IPTV device, it's important to know the potential risks and alternatives available. While the SuperBox claims to offer thousands of channels and content at an affordable price, it may not be a reliable or legal option. In this guide, we will cover the SuperBox IPTV scam and present you with the best SuperBox alternatives that are affordable, legal, and offer similar capabilities.
SuperBox IPTV Scam
The SuperBox may seem like an appealing option with its promise of thousands of live channels, movies, and series. However, it's crucial to be cautious when considering this device. Several reasons why you should avoid purchasing this device altogether include:
Many websites sell SuperBoxes at exorbitant prices, some exceeding $300.
SuperBox devices come pre-installed with unverified IPTV services, which may broadcast channels without user permission and potentially put you at risk of breaking the law.
There are legal implications around accessing copyrighted content without permission when using the SuperBox.
Therefore, it's highly recommended to consider alternative streaming options that are both cost-effective and legal.
Best SuperBox Alternatives
Here are the top SuperBox alternatives that offer similar capabilities at a fraction of the cost:
In addition to the above, other streaming devices worth considering include Amazon Firestick 4K Max and Roku Express 4K. By choosing one of these SuperBox alternatives, you can enjoy a cost-effective and legal streaming experience tailored to your preferences.
SuperBox IPTV FAQs
What is a SuperBox? A SuperBox is an overpriced Android TV Box that comes pre-installed with apps and services for an added charge. This Android IPTV box lets users watch live TV, movies, and series without a monthly subscription, bypassing traditional cable or satellite services. The device also provides access to thousands of apps through the Google Play Store.
Is the SuperBox worth it? No, we strongly advise against purchasing a SuperBox due to its high price and potential legal ramifications.
Is SuperBox a scam? While SuperBox is a functioning Android TV Box, it is not worth the expensive price point of over $300. We suggest using other streaming devices instead.
What are the best SuperBox alternatives? The best SuperBox alternatives include BuzzTV X5, NVIDIA SHIELD, Onn Google TV Box, Formuler Z11 Pro Max, and MECOOL KM2 Box.
How much does a SuperBox cost? SuperBoxes can cost upwards of $300, which is considerably more expensive than their capabilities justify.
Is SuperBox IPTV legal? The legality of using devices like SuperBox depends on the content being accessed and the copyright laws in your country. While the device itself isn't illegal, using it to stream copyrighted content without permission could be. It's important to use such devices responsibly and ensure you are not infringing on any copyright laws.
Do I need a subscription to use SuperBox? No, one of the main advantages of SuperBox is that it doesn't require a monthly subscription fee. Once you purchase the device, you can access a vast array of content without additional cost.
The SuperBox is an overpriced Android TV box that claims to offer a comprehensive streaming experience but falls short in terms of quality and legality. The device is sold at exorbitant prices, and users may unknowingly access copyrighted content without permission, potentially leading to legal trouble. Therefore, it is recommended to consider alternative and more cost-effective streaming devices, including BuzzTV X5, NVIDIA SHIELD, Onn Google TV Box, Formuler Z11 Pro Max, and MECOOL KM2 Box, which offer superior performance and reliability while staying within legal boundaries. The legality of using such devices depends on the content being accessed and the copyright laws in the user's country.
#SuperBox #IPTV #Scam #SuperBox #Alternatives #Live